Fuku OG Sando, photo credit: Clay Williams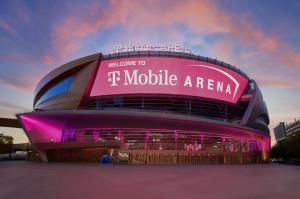 Image courtesy of T-Mobile Arena, photo credit: Al Powers
Fuku Drives Strategic Growth In Major Stadiums and Arenas Across the U.S.
Las Vegas is a priority growth market for us as we expand our presence across the US, and we're so excited for this opportunity at T-Mobile Arena to reach the Las Vegas community and fans."
— Claudia Lezcano, CEO of Fuku
NEW YORK, NY, USA, October 24, 2023 /EINPresswire.com/ — Fuku, the spicy fried chicken fast casual concept developed by David Chang, heads west with its newest concession location at T-Mobile Arena. The property is the proud home of NHL's Vegas Golden Knights and UFC (Ultimate Fighting Championship).
"Las Vegas is a priority growth market for us as we continue to expand the Fuku presence, and we're excited for this opportunity at T-Mobile Arena to not only include a professional hockey team for the first time and reach the Las Vegas community and fans, but also continue our long standing relationship and successful partnerships with Levy Restaurants," says Claudia Lezcano, CEO of Fuku.
As an official venue partner, Fuku joins an impressive list of onsite dining options at the arena which spans nearly 650,000 square feet. The Fuku concession has already exceeded sales expectations since it opened several months earlier. Located on the Upper Concourse, this marks the fourth concession partnership between Fuku and Levy Restaurants along with other locations at Barclay's Center in Brooklyn, NY; the U.S. Open in Flushing Meadows, NY; and FedExField in Landover, MD.
"We are proud to welcome Fuku to the T-Mobile Arena family," said Sally Bae, Senior Vice President of Global Partnerships for AEG in Las Vegas. "This exciting addition to our concession lineup further enhances the fan experience at our arena, providing a delectable and diverse new dining option. Fuku's reputation for quality and flavor aligns perfectly with our commitment to offering the best to our guests as they enjoy our world-class events at T-Mobile Arena."
The Las Vegas opening joins Fuku's growing list of concessions in major stadiums in the US, as the company continues to expand its locations across the country. For a complete list, please visit https://eatfuku.com/stadiums-arenas/. The New York brand also has two Manhattan based eateries at Hudson Yards and Rockefeller Center that offer dine-in, takeout and pick up services.
About Fuku

Fuku is a spicy fried chicken sandwich-centric, fast casual concept founded by David Chang and Momofuku restaurant group in 2015. Fuku offers a unique menu of approachable, chef-created, high-quality food that draws influences from both Asian and American cuisines. The company embraces a strong brand culture that's inclusive, respectful and collaborative. In addition to operating its own eateries, Fuku has a growing presence in stadiums and arenas across the U.S. Follow us at Fuku, LinkedIn, Instagram and Facebook.
About T-Mobile Arena

T-Mobile Arena, the 20,000-seat venue located on the Las Vegas Strip between Park MGM and New York-New York, opened April 6, 2016. The arena hosts more than 100 events annually including major headline entertainment, awards shows, UFC, boxing, basketball and other sporting events, family shows and special events. T-Mobile Arena also is the home of the Vegas Golden Knights, a National Hockey League expansion team and the city's first professional sports team, as well as UFC's exclusive Las Vegas arena destination. The venue, named the No. 1 venue on Billboard Magazine's 2018 Arena Power List as well as the "Best New Major Concert Venue" by Pollstar Magazine in 2016, features 50 luxury suites, more than two dozen private loge boxes, complete broadcast facilities, and other specially designed exclusive hospitality offerings and fan amenities destined to create a guest experience second to none. Toshiba Plaza, an adjacent two-acre outdoor entertainment space, features performance stages, a variety of video screens and other interactive content and display areas. Designed and built to prioritize environmental sustainability, T-Mobile Arena was awarded Leadership in Energy and Environmental Design® (LEED) Gold certification by the U.S. Green Building Council in 2016. T-Mobile Arena is a privately funded joint venture between AEG and MGM Resorts International (NYSE: MGM). For more information, visit T-MobileArena.com or follow on Facebook, Twitter and Instagram.
About AEG

Headquartered in Los Angeles, California, AEG is the world's leading sports and live entertainment company. The company operates in the following business segments: Facilities, which through its affiliation with ASM Global, owns, manages or consults with more than 350 preeminent arenas, stadiums, convention centers and performing arts venues around the world; Music through AEG Presents, which is dedicated to all aspects of live contemporary music performances, including producing and promoting global and regional concert tours, music and special events and world-renowned festivals such as the Coachella Valley Music and Arts Festival; Real Estate, which develops world-class venues, as well as major sports and entertainment districts like Crypto.com Arena and L.A. LIVE, Mercedes Platz in Berlin and The O2 in London; Sports, as the world's largest operator of high-profile sporting events and sports franchises including the LA Kings, LA Galaxy and Eisbären Berlin; and Global Partnerships, which oversees worldwide sales and servicing of sponsorships including naming rights, premium seating and other strategic partnerships. Through its worldwide network of venues, portfolio of powerful sports and music brands and its integrated entertainment districts, AEG entertains more than 160 million guests annually. More information about AEG can be found at www.aegworldwide.com.
Roberta Tsang
RTPR
email us here
Visit us on social media:
Facebook
LinkedIn
Instagram
Other


Originally published at https://www.einpresswire.com/article/662932384/fuku-expands-into-las-vegas-market-with-its-newest-location-at-t-mobile-arena